Evidently, it is almost a consensus that the shipping industry is facing a very difficult year in 2012, continuing the lacklustre performance of 2011. Modern Terminals' Chief Commercial Officer Peter Levesque noted that the worldwide shipping industry is expected to suffer a loss of US$3 billion in 2011.
Hurting demand is the sluggish global economy caused in large part by the persistent uncertainty as a result of the European sovereign debt crisis. Supply problems also loom large, as ships ordered prior to the eruption of the 2008 financial crisis are coming on stream, even taking into account order postponement, thereby depressing freight rates. The most optimistic view is that the recovery of the shipping industry will emerge by the end of this year, though many others consider 2013 will be more likely.
The unconstructive view on the outlook of the global shipping industry was echoed by maritime industry leaders who attended the first Asian Logistics and Maritime Conference (ALMC) held on 25 November 2011 in Hong Kong, including shipowners, ship managers, bankers, lawyers, insurance underwriters and port operators. A statistic widely quoted at ALMC was the Baltic Dry Index (BDI), which tracks freight rates – it was below 2,000 points for most of the time during 2011 after plunging from the peak of over 11,000 points in mid-2008.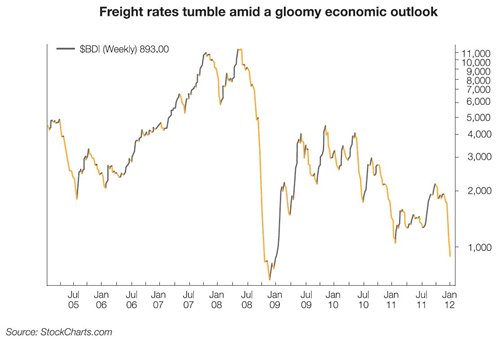 Against a gloomy economic backdrop, Hong Kong's shipping industry can reasonably expect a tough year ahead. This, along with the port statistics that Hong Kong has been overtaken by both Shanghai and Singapore as the world's busiest port in recent years, has engendered talks that Hong Kong's maritime sector has lost competitiveness. As the argument goes, this would cast a long shadow over the role of Hong Kong as an international maritime centre, in particular in light of the rapid developments in the maritime sectors of Singapore and the Chinese mainland.
Hong Kong's maritime industry cluster
For many, the maritime industry is conveniently or mistakenly treated as equivalent to the port and related sector, which is best visually manifest as ocean-going containerised vessels loaded with mainland-sourced cargo from either land or river-based transportation, and destined for developed markets. Nonetheless, the port sector is only a part of the maritime cluster.
The most important characteristic of a premier maritime cluster is the provision of comprehensive and quality maritime services, including ship brokerage, finance, law, insurance, management and operation services. Put simply, the maritime cluster as a value chain deals not only with the ordering and building of a ship, but also how it is contracted, financed, graded, managed and chartered, how the cargo, as well as the ship or the ship being constructed, is insured, and how dispute is resolved. It is much more than handling or transportation of cargo. In comparison with Hong Kong, which ranks third as the world's busiest container port, London ranks below 120. However, London is indisputably regarded as the world's leading maritime service centre.
Although Hong Kong is no longer the world's busiest port, and the world's maritime industry is having a difficult time, many industry leaders still believe a bright future lies ahead of Hong Kong's maritime industry. In the dedicated chapter on Hong Kong, China's 12th Five-Year Plan released in 2011 noted that Hong Kong's position as an international maritime centre would be maintained and strengthened in the coming years.
Shipowners and shipping firms keep rising despite economic woes
As the global economy staged a cautious recovery in 2010 from the international financial crisis of the preceding years, Hong Kong's shipping industry performed well in terms of the number of business establishments and employment. From Hong Kong's official statistics, the number of establishments engaged in cross-border water transport, including shipowners, ship agents and managers, shipping companies and local offices of overseas shipping companies, increased by some 40% from 323 in 2008 to 456 in 2010. From the trough in 2006, the number of persons engaged in the cross-border water industry also increased by about 40% from 10,110 in 2006 to 14,137 in 2010, indicating an expanding industry despite the worsening external environment.
Hong Kong's expanding cross-border water transport sector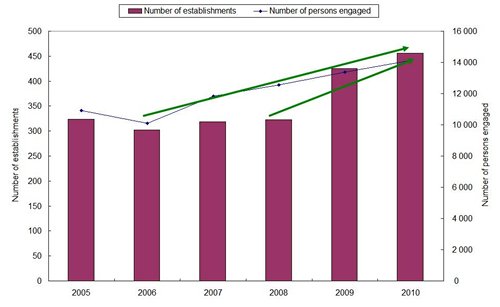 Source: Census and Statistics Department, Hong Kong
Save for the slump touched off by the international financial crisis of 2008-09, the business receipts and profits of Hong Kong's shipping industry were also on an increasing trend, which were to the contrary the falling trend of the BDI.
Swift rebound in Hong Kong's cross-border water transport sector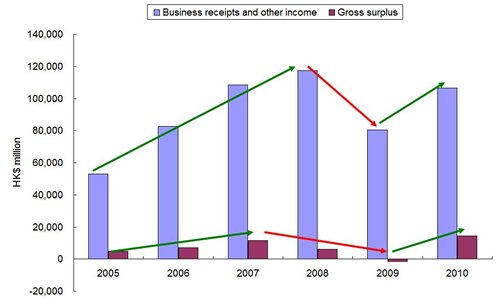 Source: Census and Statistics Department, Hong Kong
In other words, Hong Kong's cross-border water industry coped very well with the difficult time, recovering much faster than the BDI. There may be multiple reasons behind Hong Kong's relatively strong performance, including, among other things, the shift of economic gravity from the West to Asia amid the surge in intraregional trade and investment, the rise of the Chinese mainland's shipowners and shipyards, as well as the concrete foundation of Hong Kong's maritime sector and versatility of concerned service suppliers.
Hong Kong continues to flourish as international maritime centre
For a city to become and retain its status as an international maritime centre, it is imperative to draw and sustain professionals and elites to create the needed maritime service cluster. Meanwhile, only a few cities in the world can maintain a strong maritime cluster, as a huge demand of maritime services is required to generate enough business volume for concerned professionals.
Owing to both historical and geographic factors, Hong Kong has attracted the world's leading maritime service elites to the city for many decades. Historically speaking, Hong Kong shipowners owned an enormous number of fleets in the 1980s. Sir Yue-Kong Pao and Mr Chao-Yung Tung were known as the world's largest shipowners at that time. A good number of international maritime services professionals were attracted to Hong Kong to serve the influential shipowners by providing services like ship financing and chartering.
Geographically speaking, Hong Kong was, and still is a major international trading centre. According to a Hong Kong government survey, more than 3,700 overseas companies have set up their regional headquarters or offices in Hong Kong, with half of them engaged in import and export trade. In accordance with a recent HKTDC survey, most Hong Kong manufacturers and traders sourced products on the Chinese mainland, while carrying out sales, marketing, and finance and insurance arrangements in Hong Kong. These traders created an enormous amount of cross-border trading activities, also inducing a large demand for shipping services.
Building on a strong maritime cluster foundation, both shipowners and cargo traders continue to command a strong presence in Hong Kong, which helped alleviate the adverse impact of the 2008-9 international financial crisis on Hong Kong's maritime industry. Based on the deadweight tonnage reported by Hong Kong Shipowners Association (HKSA), their members own, manage and/or operate as much as 8% of the world's fleet. In 2010 and 2011, Hong Kong's import and export trade increased by 24% and 11% respectively, reaching US$ 910 billion at the end of 2011.
Bright spots for Hong Kong maritime cluster nowadays
The presence of shipowners and cargo owners provides a strong underlying support to Hong Kong's maritime cluster. Hong Kong's position as an international maritime centre and business for Hong Kong maritime service cluster is expected to benefit from the following trends.
The rise of the Chinese mainland's shipowners and shipyards
The Chinese mainland has become the largest shipbuilder in recent years, with annual production capacity exceeding 100 million deadweight tonnes (DWT). Statistics by Clarkson Research show that in the first 11 months of 2011, the Chinese mainland's shipbuilding reached 60 million DWT, surpassing respectively South Korea's 49 million and Japan's 28 million. In addition, the Chinese mainland held 44% of the global shipbuilding orders or 166 million DWT.
As a result of the increasing demand for sea transportation, a good portion of the mainland-built ships are aimed at domestic shipowners and investors. According to the Review of Maritime Transport 2011 prepared by the United Nations Conference on Trade and Development (UNCTAD), China (excluding Taiwan and Hong Kong) is the fourth largest shipowner in the world, owning approximately 9% of the world's ships in DWT terms.
The rise of Chinese shipowners and shipyards has induced strong demand for maritime services. Industry sources observed that in comparison with the maritime service cluster on the Chinese mainland, Hong Kong maritime professionals have more experience in regional and international maritime affairs. Riding on this advantage, Hong Kong's maritime cluster can promote its professional edge to Chinese shipowners and shipyards, such as ship finances, management, brokerage, classification and other services. In essence, many are becoming more active in using Hong Kong's maritime services, such as shipping finance, chartering and legal services including arbitration. On the other hand, the surge in gross tonnage registered under the Hong Kong Shipping Register in the past decade can be attributed in no small part to the rise of mainland shipowners. Meanwhile, Hong Kong ranks fourth globally in registered gross tonnage, growing by 12-fold since 1997, and only trailing Panama, Liberia and Marshall Islands.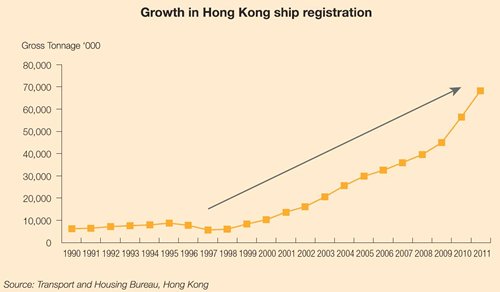 Industry sources noted that mainland shipyards have yet to develop the sophistication in building ships which require advanced technology, such as Ultra Large Container Vessels (ULCV) with a carrying capacity of 13,000– 18,000 TEU. For mainland shipowners that like to place cross-border orders with Korean and Japanese shipyards that are industry leaders in constructing those ULCV, Hong Kong can act as a platform to provide such services like shipbuilding finance, law and contracting, as well as insurance. For locally registered mainland ships, Hong Kong can further provide ship chartering, brokerage, management, operation services, shipping and cargo insurance, and maritime arbitration and litigation services.
In particular, the rise of mainland shipyards brings opportunities to Hong Kong's shipbrokers. With a gloomy global economic outlook as envisaged above, it will take time for shipbuilding orders to stage a sustained recovery, with many mainland shipyards suffering from overcapacity. To keep their shipbuilding business running, some mainland shipyards are seen to be continuing their ship construction activities, even though they have not received the order to build in the first place, and holding titles to the ships being constructed. As these "shipowning" shipyards do not possess sufficient knowledge and experience in operating as shipowners, there will be a role for Hong Kong to promote its service edge and international linkage, attracting them to charter or sell their ships via Hong Kong shipbrokers.
As shipping is a capital-intensive industry, the rise of mainland shipowners and shipyards can surely create opportunities for Hong Kong. For mainland shipowners intending to register their ships in Hong Kong, they will have the additional option of raising funds through Hong Kong, including in particular the smaller shipyards and shipowners that may not be able to secure sufficient funding on the mainland.
For larger mainland shipowners, Hong Kong as an international banking centre can readily provide the channel to various financing arrangements such as syndicated loans, as a deal for purchasing multiple ships may easily cost over hundreds of millions of US dollars. Besides, a confluence of factors like proximity, common language, familiarity with the mainland business environment, and superb maritime service offers, elevate Hong Kong as a popular choice for mainland shipowners and shipyards in need of finance and other professional services.
World's economic centre of gravity shifts towards Asia
Rapid trade and economic developments of Asian economies have increased the demand for sea transportation and attracted international ship operators to develop business in the region. Though some large shipping companies have a tendency to deal with customers directly, smaller ship operators have to rely on shipbrokers to develop businesses in the Asian region. Industry sources point to Bangladesh, India and Vietnam as regular users of Hong Kong in purchasing vessels.
Increasing demand for sea transportation also attracts ship management companies to be stationed in Hong Kong. They are able to provide comprehensive and high-quality support to their ships anchored in overseas ports in a timely manner, capitalising on Hong Kong's advantages of free flows of information and capital, its excellent air flight network and a pool of well-trained professionals, many of whom are able to travel to overseas ports at short notice.